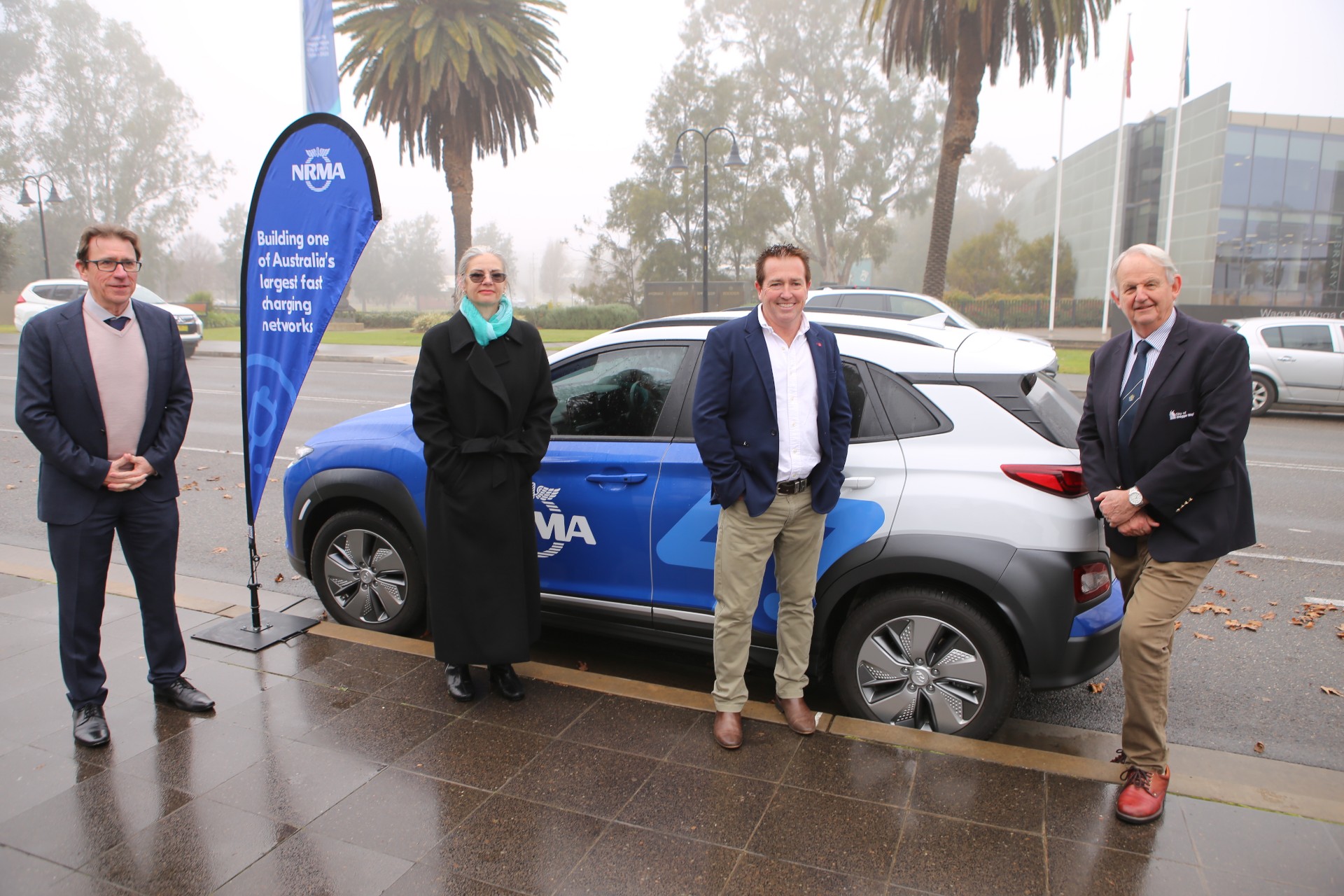 ---
Events & Tourism
EV charging stations to power regional tourism
Published: 23 Jul 2020 4:49pm
Wagga Wagga will be one of the first regional centres to install an electric vehicle (EV) charging station under a new partnership between NRMA and the State Government.
Local drivers and visitors to the city will soon be able to plug in and recharge their EV at the Cross Street car park in central Wagga, next to the Visitor Information Centre.
The partnership will deliver at least 20 additional electric vehicle fast chargers to the existing regional network along the State's major highways.
Yass has been named as the other centre to have an EV charging station in the initial roll-out of 20 new chargers along the Sturt and Hume highways.
Mayor of the City of Wagga Wagga Councillor Greg Conkey OAM said the initiative is welcomed in Wagga Wagga.
"We are ideally placed on the Sturt Highway and local drivers, along with travellers coming through our city, will greatly benefit from this service," Cr Conkey said.
"Providing these chargers opens up regional NSW to electric vehicle owners and it's important to be on that EV map as a key destination for charging stations.
"It's an opportunity to welcome more visitors to spend time in our city and that has many economic benefits for local businesses as well."
Minister for Regional Transport and Roads Minister Paul Toole said these additional charging stations are part of a co-funded investment to deliver greener and cleaner travel.
"This will help create the most comprehensive regional charging network in the country," Mr Toole said.
"The extended network will help further support the regional tourism economy and promote local investment in regional centres along the Newell, Barrier, New England, and Kamilaroi highways. We want people to stop off and explore our regional towns and cities while they charge their EVs."
Mr Toole said in most cases, EV drivers will be no more than 150 kilometres from a charging station once the network is completed by 2022.
NRMA Executive General Manager Nell Payne said tackling the issue of range anxiety was critical to giving Australians more choice when it came to purchasing an EV.
"The NRMA has been building Australia's most comprehensive fast charging network with almost 40 fast charging stations installed in NSW," Ms Payne said.
"This partnership to install more charging stations will open up regional NSW further to electric vehicle owners and boost regional tourism by giving certainty to drivers that they can journey across the state without fear of running out of charge."