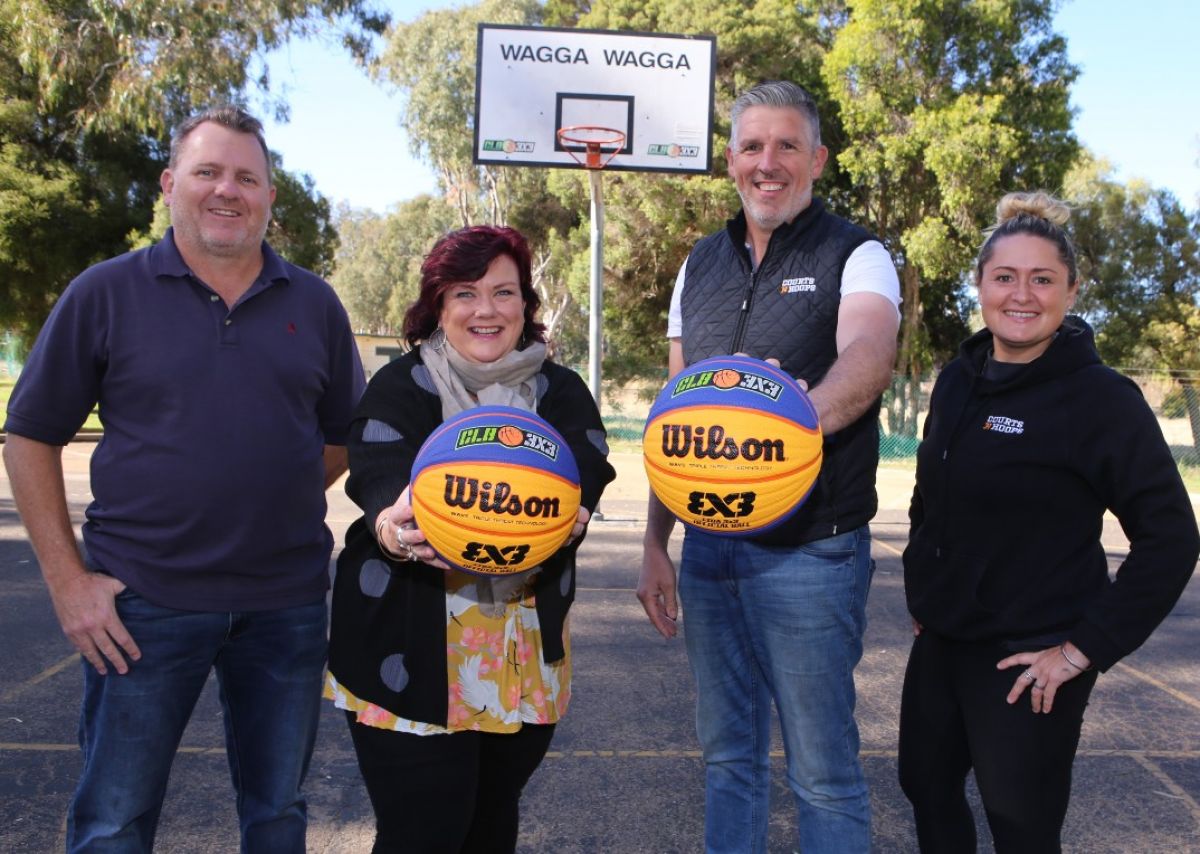 ---
Events & Tourism
Beach basketball court set for major upgrade
Published: 22 Apr 2021 11:46am
The growing popularity of new Olympic sport 3x3 basketball is having an impact in Wagga Wagga with the court at Riverside set to undergo a major upgrade towards securing more events.
Wagga Wagga City Councillors endorsed a partnership between Council and 3x3 Champions League Basketball (CLB) at their 12 April meeting which will see two new half-sized courts and improved surrounds constructed by the end of this year.
The courts will be of Olympic Games standard and feature the Federation Internationale de Basketball Amateur (FIBA) approved rubber playing surface, meaning top league competitions can be brought to Wagga Wagga.
The two new courts will be built in place of the full-size asphalt court.
The region's First Nations youth have also been engaged to participate in the recreational area's transformation.
Artworks created by professional artists Owen Lyons and Teisha Robinson will be reproduced on a vinyl wrap and feature prominently on a purpose-built shipping container to be used during competitions and for other purposes over the year.
Mr Lyons and Ms Robinson worked extensively with local high school students discussing Wiradjuri symbols which reflect respect and unity in the community.
Council's Strategic Recreation Officer Peter Cook said the project is a positive for Wagga Wagga on many levels.
"This is another example of Council partnering with a sporting organisation to achieve great results for the city," Mr Cook said.
"We've done similar upgrades at hockey and rugby league venues utilising those associations' resources to project manage the jobs, meaning Council and the sport can get more value for their dollar.
"The popularity of 3x3 is evident right here in Wagga since the first tournament was held in 2018. Each year since then the competitions have grown and the inclusion of the sport in this year's Tokyo Games has seen the cut-down version of regular basketball skyrocket in player numbers.
"We want to see more events and programming of this kind and we'll be working with CLB to make sure that happens on a more regular basis as part of this partnership."
CLB General Manager Matt Hollard praised Council's commitment to the project and said Wagga Wagga was one of the fastest growing regional centres to embrace the fast-paced game.
"The courts are state-of-the-art and specced with FIBA fully endorsed products such as the court surface and hoops so we'll be playing in Wagga on the real thing, just like the Olympics," Mr Hollard said.
"One of the courts will be covered with a dome roof which means year-round use and that gives greater scope to develop the area as a community hub, not only for basketball but a host of other activities as well.
"We're excited, we can't wait to get started and we see this as a real opportunity for Wagga Wagga. It will be great to see the Australian 3x3 women qualify for Tokyo – that alone will create enormous interest this year."
Council's Equity Project Manager Isobel MacCallum said the involvement of First Nations youth gave the project a community-wide feel.
"The significance of the river and sport is a real social connection in this space," Ms MacCallum said.
"Having the artwork in place at the court continues a lifelong message to all of equity and respect in sport, in the community and with each other, all the time."
Mr Cook said it is expected the courts will be finished in time for this year's 3x3 tournament in November-December.
Image: Council's Strategic Recreation Officer Peter Cook (left) and Equity Project Manager Isobel MacCallum with 3x3 CLB's General Manager Matt Hollard and Marketing Director Yvette Williams at this week's announcemnent to upgrade the Riverside basketball court.