---
Arts & Culture
Main art gallery and shop reopen to visitors
Published: 23 Jul 2021 2:55pm
Wagga Wagga Art Gallery officially reopened its main and upstairs galleries and shop inside the Civic Centre on Saturday (24 July), following the completion of a refresh and refurbishment project.
Although the National Art Glass Gallery has remained open, the main gallery spaces have been closed to the public since 11 April to allow for the installation of a climate control air-conditioning system in the Margaret Carnegie Gallery, along with the completion of other scheduled refurbishment works to the exhibition and shop spaces.
The new heating, ventilation and air-conditioning (HVAC) will enable the gallery to accept a greater range of touring shows and individual works from the country's major art institutions.
Art Gallery Director Dr Lee-Anne Hall said the team is pleased to be welcoming visitors back to the gallery and is keen to show everyone the new exhibitions in the refurbished spaces.
"You will see the changes straightaway when you come in through the main entrance, with new floor to ceiling windows creating a mezzanine overlooking the main gallery and its exhibitions downstairs," Dr Hall said.
"The shop is back with a focus on local, regional, and Australian artists and crafts people.
"We are back in business, we are COVID-safe, and we have a wide variety of shows that are really worth coming to see."
The Art Gallery received $192,000 in funding through the NSW Government Infrastructure Grants Program (Clubgrants Category 3) to undertake this program of works.
While no formal launch has been held due to COVID restrictions, four new exhibitions are now open to the public.
Victorian artist Mark Dober's Murrumbidgee features 10 large paintings (3m x 1.8m) on paper created en plein air on the banks of the Murrumbidgee River at Wagga Wagga and other riverscapes along the Murray-Darling.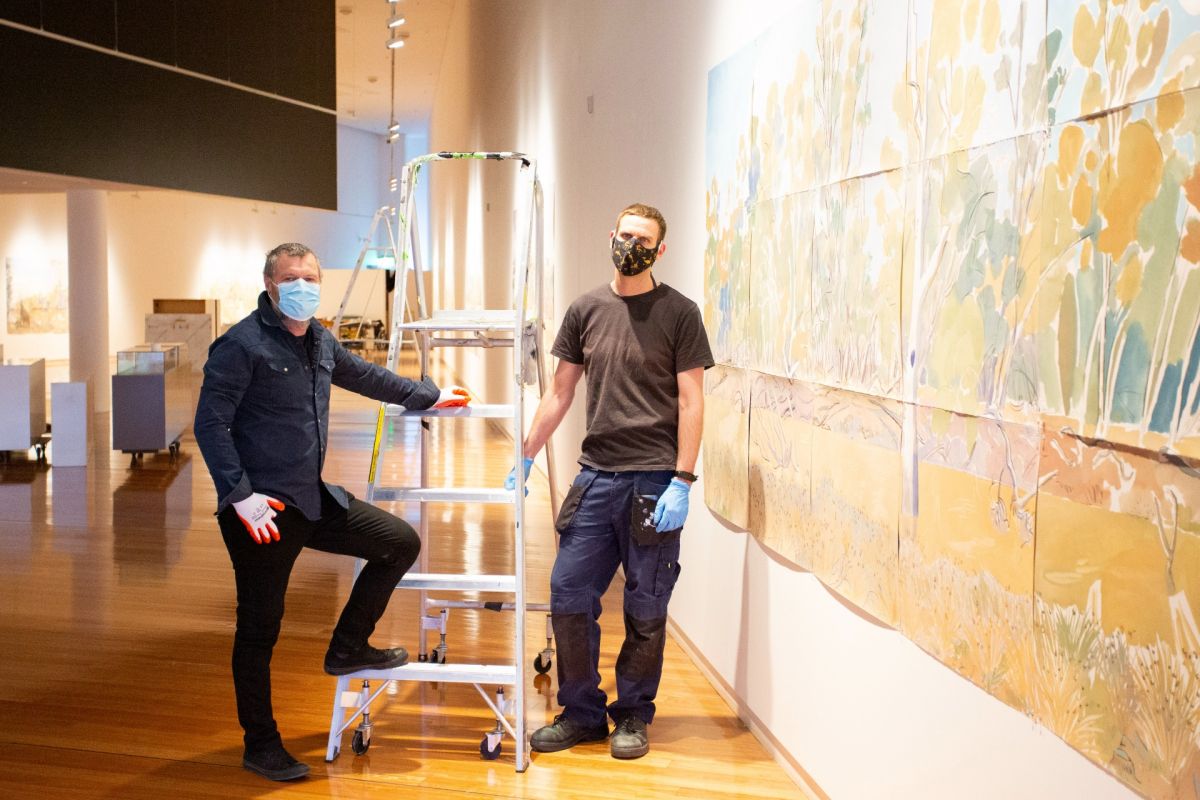 First Nations artist Kelly Koumalatsos, who is also from Victoria, explores the impact of Colonial encounters on the lives of her parents, grandparents and great-grandparents in her show Gung | Create, Make, Do, Love.
In The Nun in the Nightgown. Brigid Partridge, a woman who had enough, former Wagga Wagga resident, artist Amanda Bromfield, looks at the curious story of young nun, Brigid Partridge (Sister Mary Ligouri), who ran away from Mount Erin Convent in 1920.
In the Margaret Carnegie Gallery, Made/Worn: Australian Contemporary Jewellery from the Australian Design Centre exhibits the work of 22 artists working in contemporary jewellery in Australia.
"All of these shows feature remarkable and stunning pieces that explore interesting themes and the history of this region and beyond," Dr Hall said.
"They will appeal to a broad audience, whether your interest is in painting, craft or contemporary jewellery."
For more details on the exhibitions, visit waggaartgallery.com.au