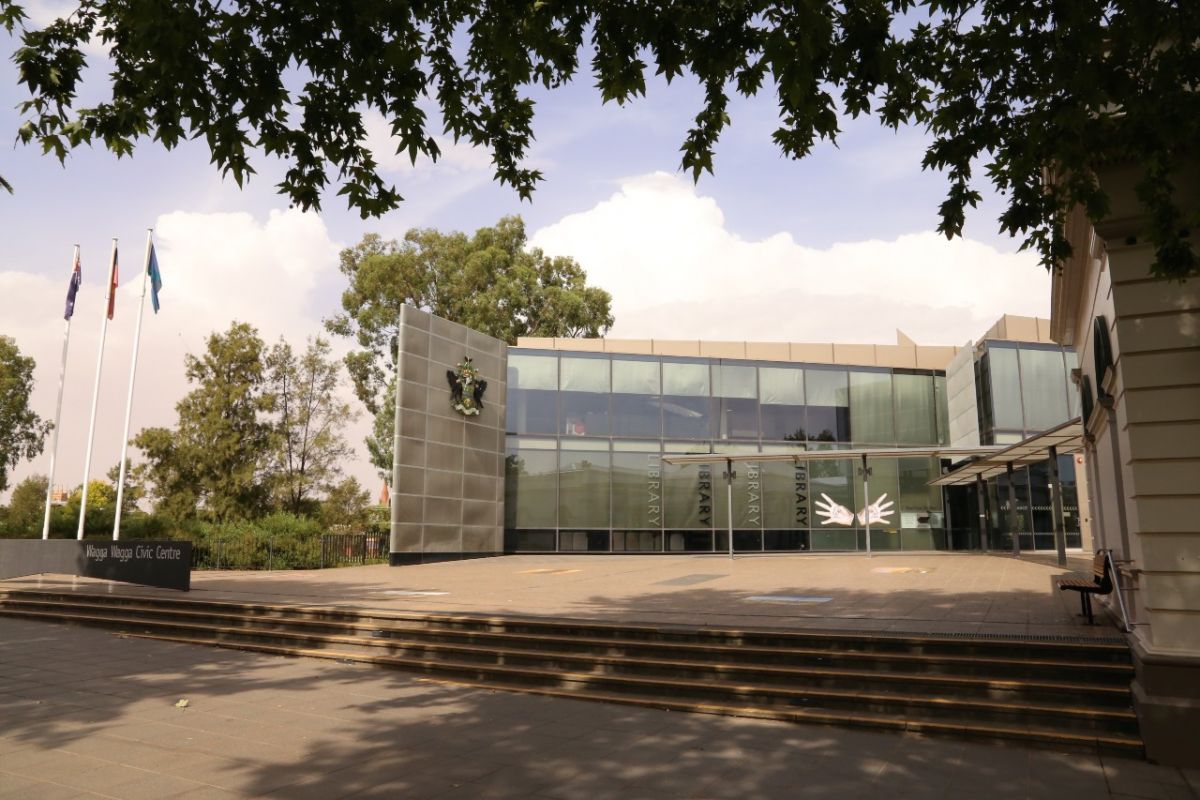 ---
Council
Summary of Council's 26 July 2021 Ordinary Meeting
Published: 27 Jul 2021 9:08am
Report to focus on pedestrian safety
A report into pedestrian safety along roads in Mount Austin and Turvey Park will come back to Council after a notice of motion was supported last night (26 July).
Cr Dan Hayes put the motion which named Northcott Parade, Mitchelmore Street, and access to the Botanic Gardens along Macleay Street, as priorities.
NOM-1 NOTICE OF MOTION - TURVEY PARK AND MT AUSTIN PEDESTRIAN SAFETY IMPROVEMENTS
Councillor report
A report was received and noted following attendance at the 27 National General Assembly of the Australian Local Government Association by the Mayor, Cr Greg Conkey OAM, Cr Dan Hayes and Cr Rod Kendall.
CR-1 NATIONAL GENERAL ASSEMBLY
Height limit increase in planning proposal
Council has resolved to adopt a planning proposal to amend the Wagga Wagga Local Environmental Plan relating to building heights, specific to a northern CBD property.
The Planning Proposal sought to increase the Height of Buildings Map as it applies to Lot 1 DP 1028542 at 63-65 Johnston Street.
This allows new or refitted buildings up to 25 metres tall, as opposed to the current 16 metres limit.
RP-1 PLANNING PROPOSAL LEP20/0010 - INCREASE TO WAGGA WAGGA LEP HEIGHT OF BUILDINGS STANDARD AT 63-65 JOHNSTON STREET
Land zoning planning proposal approved
A planning proposal to amend land zoning, minimum lot size and urban release area provisions for land located in the western portion of the suburb of Estella, known as the Estella Development Area, has been approved.
Council received a Gateway Determination on 26 March 2021 to proceed with the planning proposal subject to public exhibition and agency consultation.
The planning proposal was placed on public exhibition from 9 April 2021 to 21 May 2021 (inclusive). Two community submissions and one agency submission were received during the exhibition period.
RP-2 PLANNING PROPOSAL LEP20/0007 - LAND ZONING BOUNDARY ADJUSTMENTS TO LANDS NEARBY PINE GULLY ROAD, AVOCET DRIVE AND RAINBOW DRIVE, ESTELLA
Community benefits from Annual Grants funding
Council has supported 62 community and small business projects through its 2021/22 Annual Grants Program.
Council last night endorsed allocating $226,674 in funding across 10 grant categories including various cultural, environmental, sporting and youth-led initiatives.
The Annual Grants Program this year attracted 111 applications in the following categories:
Community Program and Projects; Recreational Facilities; Neighbourhood and Rural Villages; Rural Halls; Arts, Culture and Creative Industries, Local Heritage; Events; Natural Environment; Youth Led Initiatives; and Small Business.
A summary of the recipients for the Annual Grants program is in the attached media release.
RP-3-RP-11 & RP 13 ANNUAL GRANTS PROGRAM 2021/22 - RURAL HALLS; ARTS, CULTURE AND CREATIVE INDUSTRIES; RECREATIONAL FACILITIES; EVENTS; YOUTH LED INITIATIVES; NATURAL ENVIRONMENT; LOCAL HERITAGE; NEIGHBOURHOOD AND RURAL VILLAGES; SMALL BUSINESS; COMMUNITY PROGRAMS AND PROJECTS
Decision on library model deferred
Council agreed to defer consideration of this report until further community consultation has been completed with the villages that currently utilise the Riverina Regional Library service.
RP-12 RRL DEED OF AGREEMENT EXPIRY DATE AND WAGGA WAGGA CITY COUNCIL LIBRARY SERVICE OPTIONS
Waste fees waived for community groups
Seven local charity organisations and community groups have been approved to receive relief from fees for the disposal of waste at Council's Gregadoo Waste Management Centre (GWMC) for the 2021/22 financial year.
Council agreed to $5,050 in fee subsidies on the basis the recipients are providing a benefit to the community.
The groups are:
1 Sister Housing Enterprises $1,000
2 Wagga Men's Shed $1,000
3 South Wagga Anglican Church $300
4 Anglican Opportunity Shop $500
5 Riding for the Disabled (NSW) Wagga Centre $1,000
6 Rotary Club of South Wagga Wagga Inc $1,000
7 Wagga Wagga Baptist Facilities Incorporated $250
RP-14 APPLICATIONS FOR SUBSIDY FOR WASTE DISPOSAL FOR CHARITY ORGANISATIONS
Community@Work first -ear grants approved
The inaugural Community@Work fund has allocated $44,296 in grants to seven local groups for the 2020-21 financial year.
The new Community@Work Fund is aimed at providing an avenue for community members/organisations to request financial assistance for their proposed capital work or one-off activity which is primarily for the benefits of a community need which is not otherwise being met.
There were 12 applications received which requested a total of $253,879 from the $95,372 available.
The total amount of unallocated funds is $51,076, which is suggested to be held in the Community Works Reserve and made available for the 2022/23 funding round, in addition to what is anticipated to be available for next year's round.
The successful applicants which received part or full funding for their projects are:
Anglican Parish of Wagga Wagga - St Saviours Church Ladysmith: $5,000 for building access ramp.
Carevan Wagga Incorporated: $1,370 for purchase of mobile IT device and signage.
Demonstration Gardens Wagga Wagga: $1,900 for purchase of new garden beds.
North Wagga Residents Association Inc: $20,000 for resources for North Wagga Village Heritage Track
South Wagga Anglican Church: $7,000 for a fenced outdoor play space.
Tarcutta Progress Association: $5,750 for a mural at Paddy Osborne Park.
The Smoking Butcher (Michael Cameron): $3,276 for men's bbq activity 'Meat Up'
RP-15 COMMUNITY@WORK FUND - OUTCOME OF GRANT FUNDING SUBMISSIONS
Capital works budgets approved
Council has approved the proposed 2020/21 capital and operating budget revotes, works in progress and proposed budget variations required to manage the 2021/22 budget and Long-Term Financial Plan.
The proposed Capital Works Program for 2021/22 is $113.7 million including $79.1 million capital works budget and $16 million works in progress transfers (pending the finalisation of 2020-21 financial statements.
In budget variations, Council has been successful in securing $148,090 from the Department of Infrastructure, Transport, Regional Development and Communications toward the upgrade to Driver Reviver infrastructure at the Visitor Information Centre.
The funding will go towards the purchase and installation of a shade sail over the existing playground, additional barbecue and outdoor furniture, accessible concrete footpaths, landscaping and signage.
RP-16 2020/21 WORKS IN PROGRESS AND REVOTES, 2021/22 BUDGET VARIATIONS AND 30 JUNE 2021 INVESTMENT REPORT
Fee waiver requests
The following fee waiver requests have been approved, totalling $4,166
Kooringal High School: $816
Country Hope Camp Committee: $300
Rotary Club of South Wagga Wagga: $2,400
Riverina Conservatorium of Music: $650
RP-17 SECTION 356 REQUESTS FOR FINANCIAL ASSISTANCE
Proposed new fee on public exhibition
A proposed new fee for "Conduct Money – Subpoenas" will be placed on public exhibition until 24 August 2021.
It is proposed that a fee of $30 is charged for the processing of this information. This is consistent with the fee charged by other Councils for the provision of this service.
RP-18 PROPOSED NEW AND AMENDED FEES AND CHARGES FOR 2021/22
Wagga Wagga Beach safety upgrade
Council has endorsed and will implement the recommendations of the Wagga Wagga Beach Aquatic Safety Assessment.
An update on the partnership between Council and Royal Lifesaving NSW and the recommendations already actioned from the Wagga Wagga Inland Water Safety Management Plan 2019 was received last night (26 July).
There was also seven recommended risk treatments for Wagga Wagga Beach, including the installation of publicly accessible rescue equipment and a defibrillator.
Chief Executive Officer of Royal Life Saving NSW, Mr Michael Ilinsky has offered to provide this equipment at the beach and have it installed on the existing amenities building.
It would be monitored to assist in reducing the risk of it being vandalised. This installation will be completed prior to the upcoming summer season.
RP-19 IMPLEMENTATION OF INLAND WATER SAFETY MANAGEMENT PLAN UPDATE
Kart track upgrade
Council has accepted $407,407 in funding from the NSW Government for the upgrade of the track at the Wagga and District Kart Club. The club has offered to complete the works in partnership with Council.
Council staff have held discussions with the Kart Club over the past 12 months regarding the condition of the track. The focus was on the asphalt surface which has significantly deteriorated over time and recently reached a point where the club's track racing licence was not renewed.
Council has entered into similar agreements previously with sporting organisations to deliver community infrastructure. These include the construction of additional seating and change rooms at McDonald's Park and for the upgrade of the tennis courts at the South Wagga Tennis Club.
These projects have delivered excellent value for Council funding and have produced high quality venues post development. This delivery model has also provided improved ownership and community participation.
RP-20 FUNDING OFFER - RENEWAL OF WAGGA WAGGA KART CLUB FACILITY
Plans for new Lake Albert wharf
Council has supported a partnership with Wagga Wagga Boat Club, Wagga Wagga Sailing Club and Bidgee Dragons to construct a wharf in front of the sailing club shed.
Council recently received a proposal from the clubs regarding possible improvements to the south west corner of Lake Albert.
This proposal includes vehicle access and car park improvements as well as the construction by the stakeholders of a wharf that would provide all abilities access to Lake Albert.
The proposed wharf would have a ramp that would reach approximately 20 metres into the lake connecting to an 8 metre pontoon.
It is also proposed that the pontoon would include infrastructure to enable all abilities access from the pontoon into a vessel. The estimated cost of completing this work is between $50,000 and $70,000 and is proposed to be funded from a mix of private funding, grant funding and in-kind contributions.
RP-21 PROPOSED ALL ABILITIES WHARF AT LAKE ALBERT
Child centre's area extended
Council has supported a request from Shaw Street Children's Centre Inc. to extend the area utilised by the facility under a Community Licence Agreement.
RP-22 PROPOSED EXTENSION OF AREA LICENSED TO SHAW STREET CHILDREN'S CENTRE INC.
Support for Rail Trail concept
Council last night (26 July) reaffirmed its support (as previously adopted in October 2016, February 2014 and February 2008) for the Wagga Wagga to Ladysmith Rail Trail concept to enable interested parties to make submissions for grant funding. This motion followed a petition to Council requesting its support.
Council agreed to approach State and Federal governments regarding their current position in relation to rail trails.
Council will also undertake a community consultation process with a view to identifying a pathway to pursue a rail trail in the Wagga Wagga Local Government Area, acknowledging the current Active Travel Plan network.
A report will come back to Council prior to 30 April 2022.
RP-23 PETITION - WAGGA WAGGA RAIL TRAIL
Caretaker period change
The postponement of the NSW Local Government elections until 4 December due to COVID-19 also means a later start to the caretaker period (now 5 November) and allows for an additional Ordinary Meeting of Council scheduled for 13 September.
RP-24 2021 CARETAKER PERIOD
Two contracts approved
Council has agreed to enter into a "schedule of rates" contract with Fulton Hogan Industries Pty Ltd for the supply, supply and laying of densely graded asphalt for Council's annual asphalt program and daily patching materials requirements.
CONF-1 RFQ2021-542 SUPPLY, SUPPLY & LAY DENSELY GRADED ASPHALT
Council has agreed to enter into a contract with CRS Pty Ltd for the design and construction of shared pathways as part of the Stage Two Active Travel Plan's Lake Albert link.
CONF-2 RFQ2021-552 ATP II LAKE ALBERT LINKS ASPHALT CONCRETE
Negotiations for two contracts
Council has agreed to reject all tenders and enter into negotiations for concrete and design and construction works as part of the Stage One Active Travel Plan.
CONF-3 RFT2021-24 ATP 1 CONCRETE SECTIONS DESIGN & CONSTRUCT
Council has agreed to reject all offers and begin negotiations for the Request for Tenders 2020-22 relating to the Gas Turbine and Leachate Evaporation System Design and Construction works at Gregadoo Waste Management Centre.
CONF-4 RFT2021-22GWMC GAS TURBINE AND LEACHATE EVAPORATIVE SYSTEM DESIGN & CONSTRUCTION
Airport sub-leases/licences approved
Council has agreed to enter into a sub-licence agreement with Lyme Hill Pty Ltd for a car hire desk at Wagga Wagga Airport.
CONF-5 PROPOSED SUB-LICENCE AGREEMENT FOR AIRPORT CAR HIRE DESK 3
Council has agreed to assign the Airport sub-leases over Light Aircraft Precinct Hangar Site 17 at Wagga Wagga Airport.
CONF-6 PROPOSED ASSIGNMENT OF AIRPORT SUB-LEASES – LIGHT AIRCRAFT PRECINCT HANGAR SITE 17
Council has agreed to enter into a sub-licence agreement with Go2 Investments Pty Ltd for a car hire desk at Wagga Wagga Airport.
CONF-7 PROPOSED SUB-LICENCE AGREEMENT FOR AIRPORT CAR HIRE DESK 4
Cycling complex funding option
Council has endorsed a funding option for the construction of Stage Two works at the Multisport Cycling Complex development at Pomingalarna Reserve.
CONF-8 FUNDING PROPOSAL FOR POMINGALARNA STAGE 2 WORKS
Support for old ambulance station proposal
Negotiations with the NSW Government around Council acquiring the old Wagga Wagga Ambulance Station at 54 Johnston Street will continue after Council endorsed the proposition last night (26 July).
CONF-9 PROPERTY ACQUISITION - 54 JOHNSON ST, WAGGA WAGGA
Request to waive GIPA fee
A request to waive the fee for information under the Government Information Public Access (GIPA) Act 2009 will be placed on public exhibition for 28 days from 27 July with public submissions invited.
CONF-10 GOVERNMENT INFORMATION (PUBLIC ACCESS) ACT 2009 - PROPOSED FEE WAIVER