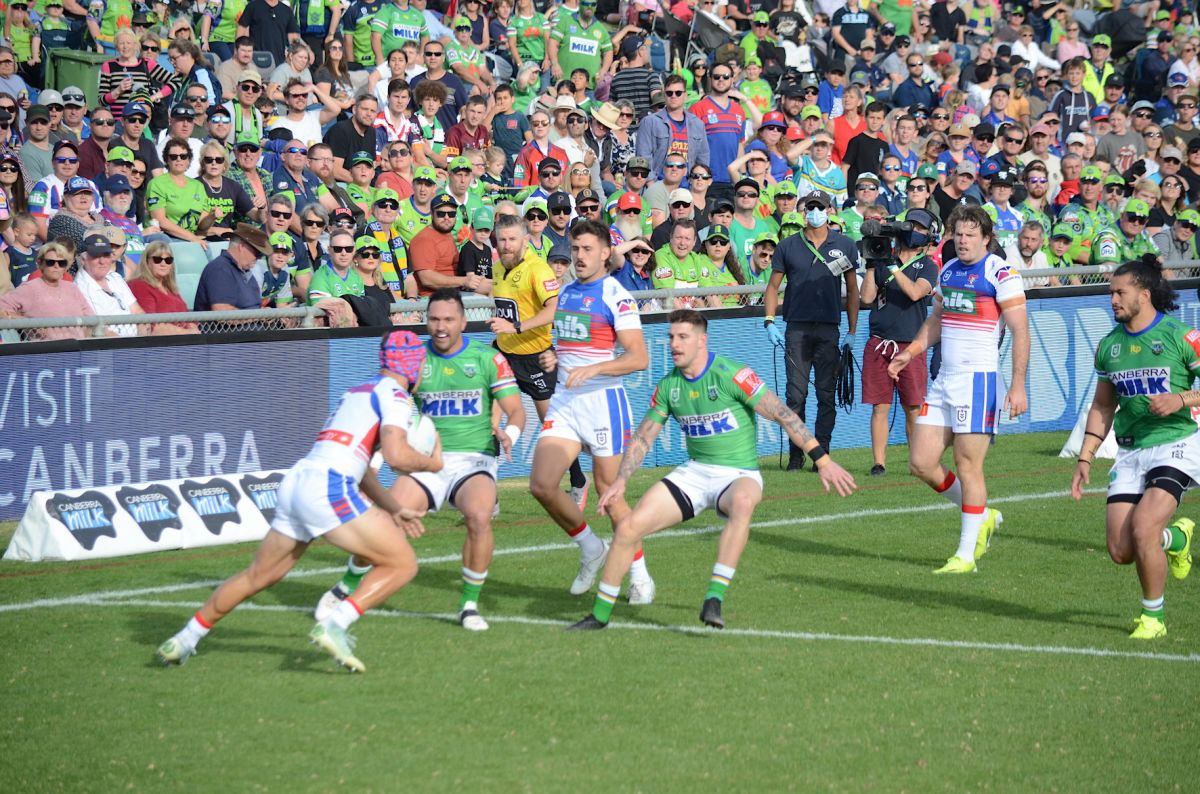 ---
Events & Tourism
Raiders v Storm in 2022 NRL blockbuster
Published: 08 Nov 2021 4:04pm
Wagga Wagga City Council and Canberra Raiders' commitment to bring the National Rugby League back to the city next year was today (9 November) confirmed with the 2022 NRL draw including a premiership game at McDonald's Park next season.
The Raiders will play a round 5 home game against Melbourne Storm in Wagga Wagga on Saturday 9 April, 2022 kicking off at 3pm. Tickets will go on sale early next year.
Mayor of the City of Wagga Wagga Cr Greg Conkey said the Raiders' commitment to bring their third game in four years to Wagga Wagga was a strong reflection of the partnership the club and the city have forged in recent times.
"We had to call off the 2020 fixture due to the uncertainty of the pandemic and whilst this year's game successfully went ahead, there were limited numbers allowed at the ground due to restrictions," Cr Conkey said.
"Full marks to the Raiders and the NRL for sticking with the regions in 2022, and in particular Wagga Wagga. We want to see a capacity crowd next year and to have that happen against the Storm will be a huge coup for our city.
"Our facilities are top notch … we have done this a few times now and our people, alongside the Raiders, know how to put on a top show for all residents and visitors who converge on the city for this much-anticipated sporting spectacle.
"This is just what we needed after a tough couple of years due to the pandemic."
The game is scheduled for the week before Easter and will be on the first weekend of the NSW school holidays, giving rugby league supporters every opportunity to plan an extended stay in the region.
Canberra Raiders CEO Don Furner said the club is looking forward to returning to Wagga Wagga and rewarding their many Riverina supporters with an NRL game in their own backyard.
"We all know it's been a tough couple of years for everyone and we're sticking to our commitment to bring one of our games to Wagga," Mr Furner said.
"Everyone needs a morale boost as we come out of restrictions and hopefully we can play our part in that recovery, giving the city a significant event to look forward to as part of our strong relationship developed with the region.
"A game against the Storm doesn't get much better … it should be a great game at a great venue in front of a great crowd.
"We will be encouraging all of our Canberra-based members to travel out to Wagga, support the Raiders and make a weekend of it."
Tickets for the match will go on sale early next year. Council will keep the public updated on when and how tickets can be purchased.
Image: Action from the 2021 Wagga Wagga NRL game ... Raiders v Newcastle