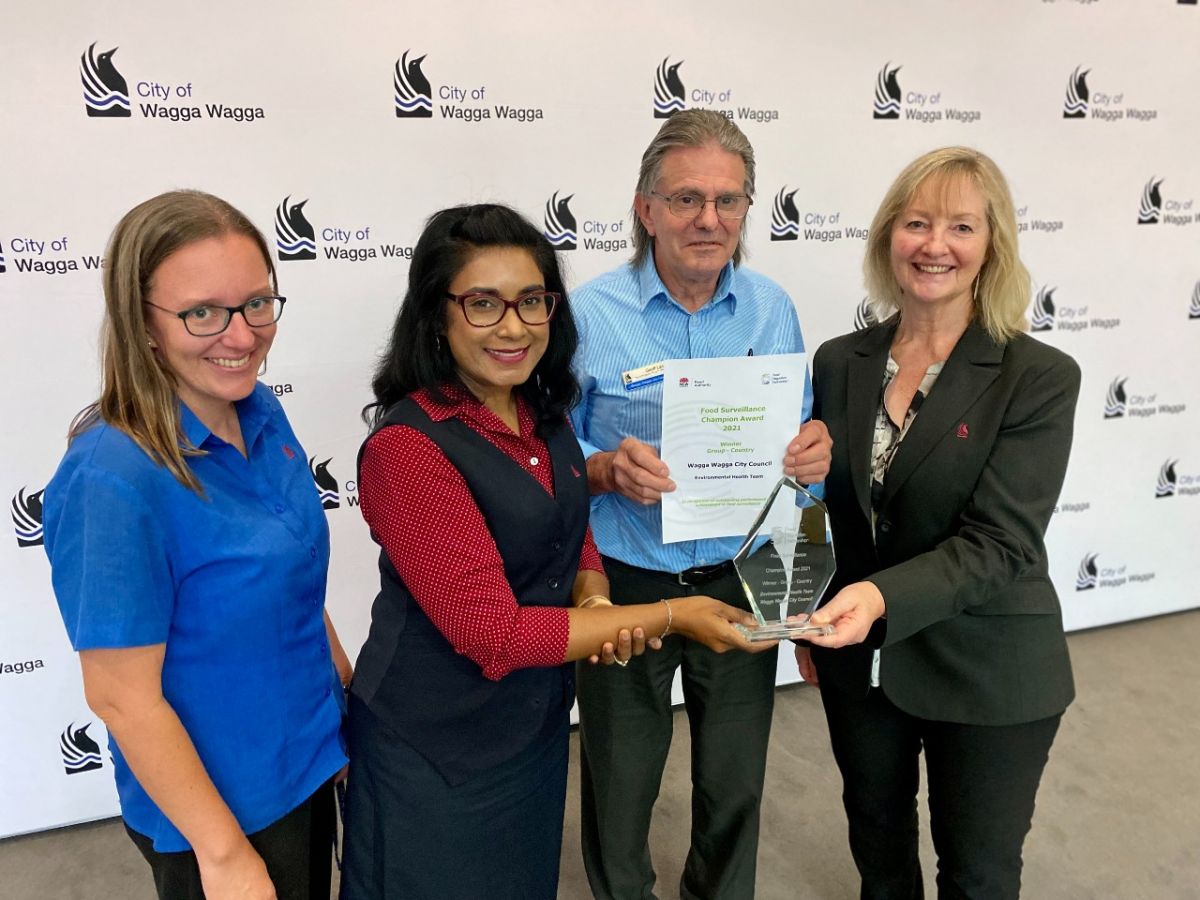 ---
Council
Council's Environmental Health Team win major award
Published: 29 Apr 2022 9:45am
The NSW Government Food Authority awarded Wagga Wagga City Council's Environmental Health Team with a Food Surveillance Champion Award this week in recognition of outstanding performance and excellence in food safety.
The award recognised the significant contribution in terms of service, achievement and impact to food surveillance in the community made by Council's Environmental Health Officers Uvindu Warnakoolasuriya, Kate Barraclough, Geoff Lang, and Environmental Health Coordinator Sharomi Dayanand.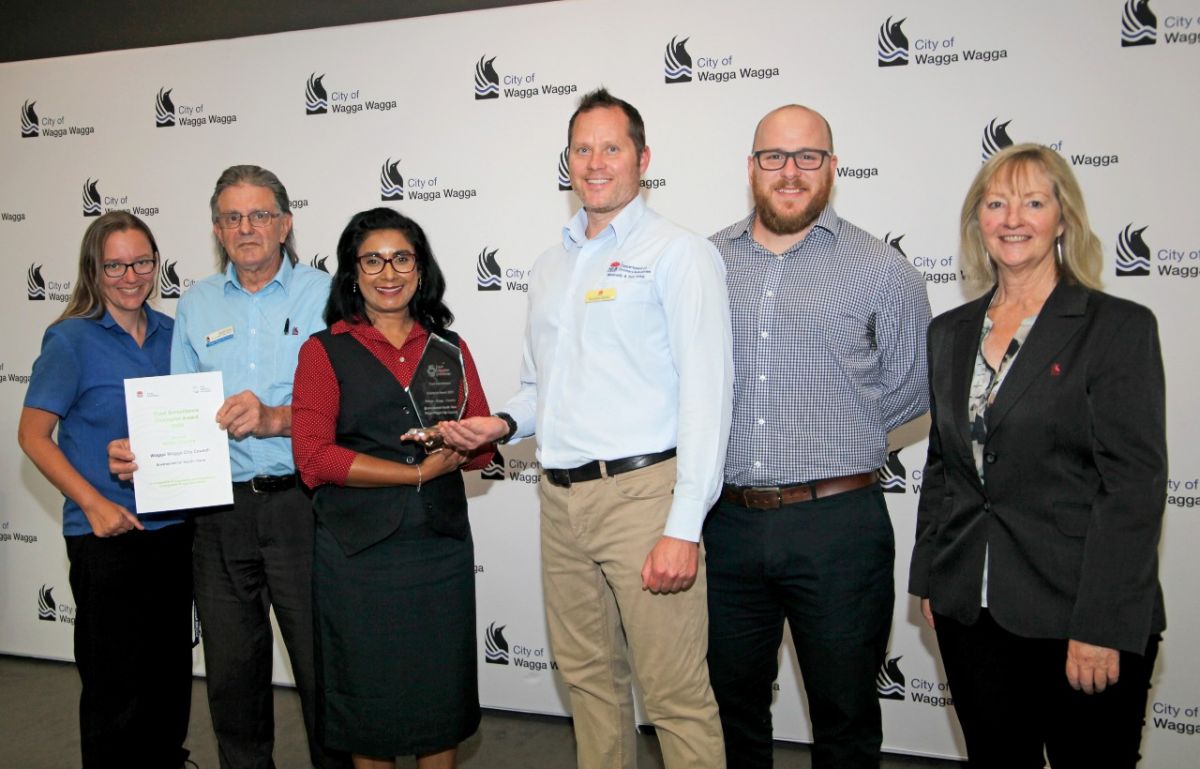 Manager of the NSW Food Authority's Local Government Unit Andrew Davies and Policy Officer Judd Owen travelled to Wagga Wagga to present the award in person.
Mr Davies said Council's ongoing food surveillance helps ensure that food sold in Wagga Wagga is safe to eat.
"Poor food handling practices can result in people getting very sick so the work that Council's Environmental Health Team does helps safeguard the community's health and safety," Mr Davies said.
The Wagga Wagga City Council nomination stood out in a competitive awards category.
---
Find out more about Council's role in food safey
Food Safety
---
"The nomination made clear the team's commitment to food safety and their community, not only by demonstrating strong Food Regulation Partnership performance, but also by undertaking many value-adding initiatives," Mr Davies said.
"It was the team's commitment to doing things a little bit differently that drew the attention of the judging panel.
"For example, the ways they adapted to the COVID-19 situation; conducting rapid rounds of surveillance checks on food businesses in the retail sector, developing a book helping children understand how to protect themselves through handwashing and sanitising; and other work such as helping deliver meals to those in need.
"The work they've done in relation to this award shows they've gone beyond best practice; some of their initiatives are leading practice."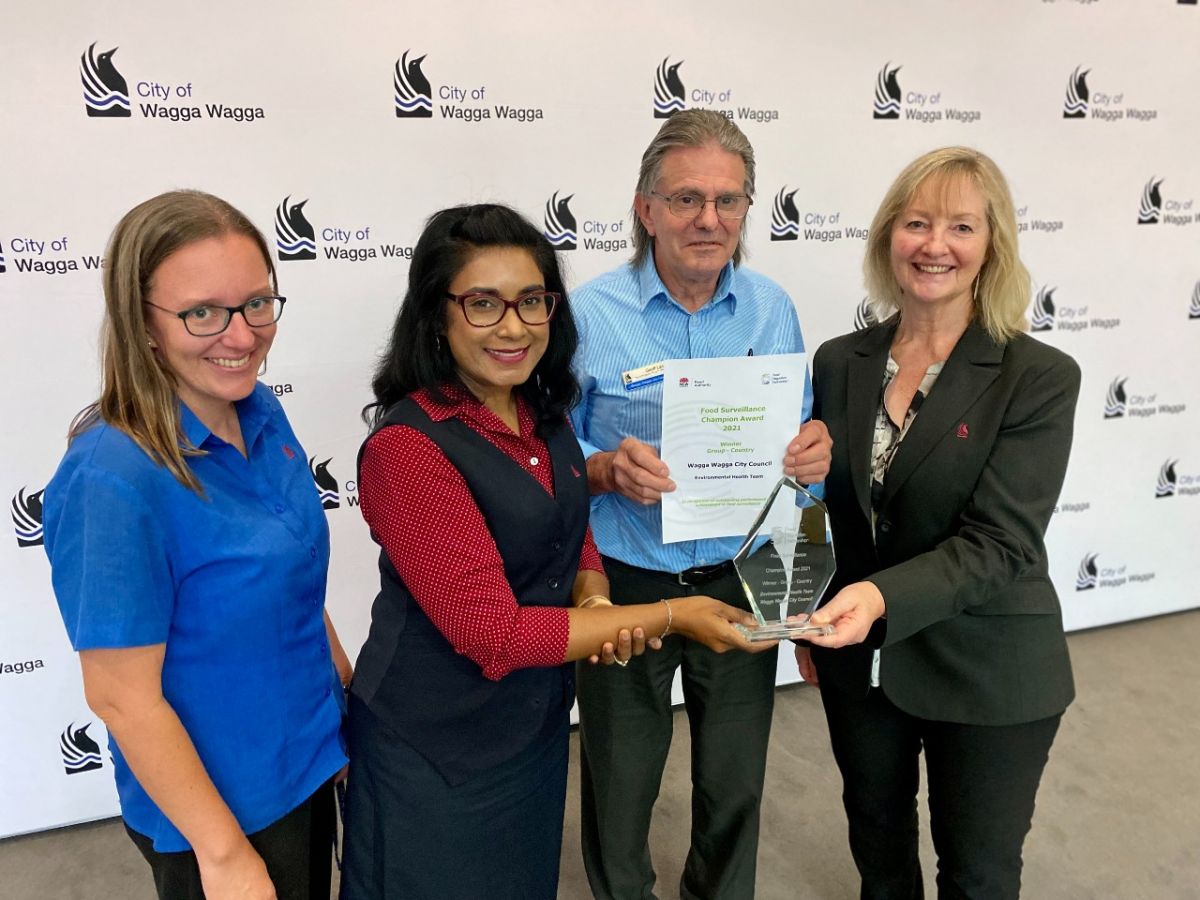 Environmental Health Coordinator Sharomi Dayanand said the recognition was appreciated as the team continues to work to protect the community against disease.
"Through carrying out regular food safety inspections, we're mitigating risks and helping keep our community safe," Ms Dayanand said.
In addition to assessing food businesses in Wagga Wagga and surrounding villages, the team are often called on to assist other councils.
"A lot of smaller councils don't have the expertise needed so we're happy to help assess their local food businesses and ensure they're meeting the food safety standards."
Council's Environmental Health Officers also help the region's food business sector keep up with trends and stay aware of important issues.
"We work in close collaboration with many food businesses who are very cooperative, assisting with food safety and fit-out information, whether it's changing a concept or process within the business or changing to new business premises," Ms Dayanand said.
"We are always open to supporting local food businesses and working with them, especially at the business start-up stage, so their business is not interrupted. We place a lot of emphasis on getting it right from the start."
For more information about food safety, visit wagga.nsw.gov.au/foodsafety