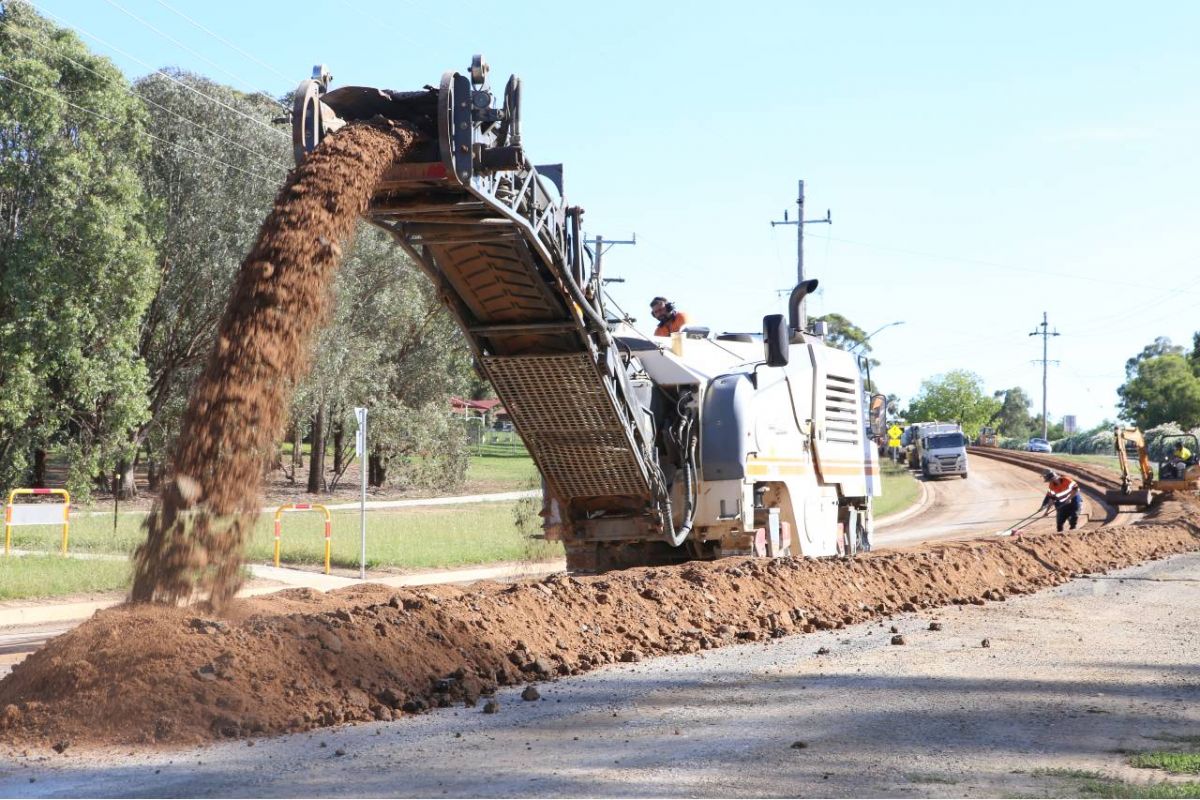 ---
Projects & Works
Council trials new construction method on Kooringal Road
Published: 13 Jan 2022 11:50am
A new road rehabilitation method which recycles the existing pavement to improve its material qualities is being trialled by Wagga Wagga City Council to complete the Kooringal Road upgrade.
Works on the upgrade started on Monday (10 January) and have progressed through the week despite some storm activity earlier in the week.
It is expected the new methodology will see the project completed in two weeks, weather permitting, as opposed to the 10 weeks using traditional techniques.
The existing road pavement is churned up with a large mixing machine and at the same time 3% of hot bitumen and 2% hydrated lime/flyash is added to the material.
The additives improve the pavement properties to more adequately carry the anticipated volume of traffic expected on this road over the next 20 years.
The recycled base is then compacted and trimmed before a 10mm bitumen seal is applied followed by the final wearing course which is a 50mm asphalt overlay to finish the road surface.
Council's Director Infrastructure Services Warren Faulkner said trialling the new method and using recycled product would help form a report back to Council later this year on the state of road maintenance in the Local Government Area.
On Monday night, Councillors resolved to receive a report which will provide information on budgets, repair schedules, funding required, alternate options for funding, challenges unique to Wagga Wagga's road maintenance, pothole causes and repairs, and the need to investigate new methodologies and various materials for road repairs and upgrades, as well as engaging contractors for larger projects.
"The report will contain a lot of facts and figures, and provide that data for Council to make informed decisions going forward," Mr Faulkner said.
"Our road network is a dynamic asset, it changes all the time, and in recent times we have seen it greatly affected by the consistent and heavy rainfall.
"The methodology we are trialling on Kooringal Road will provide us with a good example of what can be achieved as we look at new ways to achieve new results."
On Monday 17 January and Tuesday 18 January, traffic control will be in place on Kooringal Road for the construction of a new traffic island adjacent to Amy Hurd Park as part of the Active Travel project. The asphalt overlay to complete the pavement upgrade is scheduled to be laid Saturday 22 January and Monday 24 January, weather permitting.
COUNCIL ROAD WORKS UPDATE
Red Hill Road pavement recycling between Plumpton Road and Tamar Drive – 17 to 21 January 2022
Red Hill Road pavement recycling between Bourke Street and Glenfield Road – 20 to 25 January 2022
Stanley Street pavement rehabilitation from Lake Albert Road to the top of Willans Hill – 31 January to 4 February
Dobney Avenue and Pearson Street Rehabilitation project – out to tender, closing 19 January 2022. Works expected to start March/April.
Dunns Road upgrade – Drainage upgrade works in the unsealed sections planned to start late January/early February, subject to materials being received.
Lake Albert Road Stage 3 Rehabilitation project – practical completion December 2021, line marking of Lord Baden Powell to Warrawong section is required to complete the project.