---
Arts & Culture
Plug + Play on track to support young musicians in 2022
Published: 27 Jan 2022 2:52pm
Wagga Wagga Civic Theatre's Plug + Play program will go ahead in 2022, after two years of COVID-interrupted plans.
The program works with local, emerging musicians aged 14-25 to provide support and mentoring in the music industry.
Civic Theatre Manager Carissa Campbell said after a pause in 2020 due to COVID-19, the Plug + Play program relaunched in 2021 but again met challenges of cancellations throughout the year."
The participants who were registered in 2021 have rolled over to this year, and with such a full calendar at the theatre in 2022, we think this year's program will be more exciting than ever," Ms Campbell said.
The Plug + Play program aims to build business, song writing, technical and marketing skills in young musicians so they can create their original music, start new bands, get paid and make a career in music - all at no cost to the participants.
"Providing the business skills behind the music and making connections with the industry professionals who can take them to the next level, this is where we can really help." Ms Campbell said.
The program began in 2019, with many of the alumni of the first intake already seeing great success.
"It's hard not to get those proud mum feelings when we look at where they are now" Ms Campbell said. "We saw new bands formed, existing bands had their original music heard on Triple J Unearthed and solo musicians fine-tuned their business and marketing skills to secure more gigs."
To coincide with the 2022 Plug + Play program, Wagga Wagga City Council has announced a new Live Music Kit, which contains essential audio and lighting equipment needed to stage small concerts in outdoor spaces.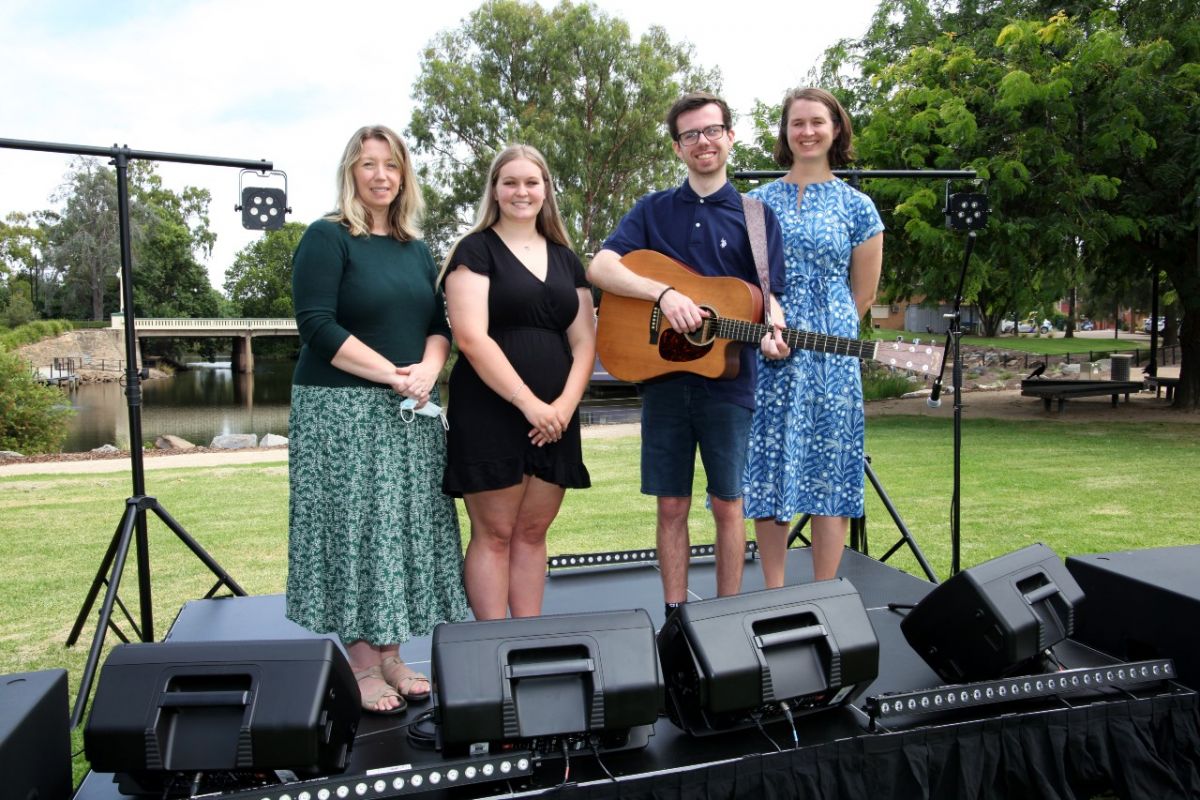 This kit will be available for use to present live music in parks and public spaces throughout the Local Government Area. It will be free to use for a limited number of eligible artists and community groups in 2022 through an open EOI process.
The kit is a professional quality resource that will take community-led performances to the next level.
Council's Cultural Officer Lauren Reynolds said the program has been developed from the strong demand to facilitate all-ages live music events outside of pubs and clubs.
"We aim to encourage young people and create opportunities to participate in the music scene, building careers and networks," Ms Reynolds said.
"Not only will applicants receive the use of the audio and lighting equipment, they will also get the support of an experienced technician who will set up and operate the system, ensuring a professional polish for the performance."
Past and current participants of the Plug + Play program are excited and enthusiastic about the new opportunities this live music kit will bring to the city."
Live music has a way of connecting people, particularly our younger population. We are thrilled to be able to support emerging artists and activate our outdoor spaces to bring live music to our city," Ms Reynolds said.
---
Interested musicians can get more information about applying to use the Live Music Kit here: