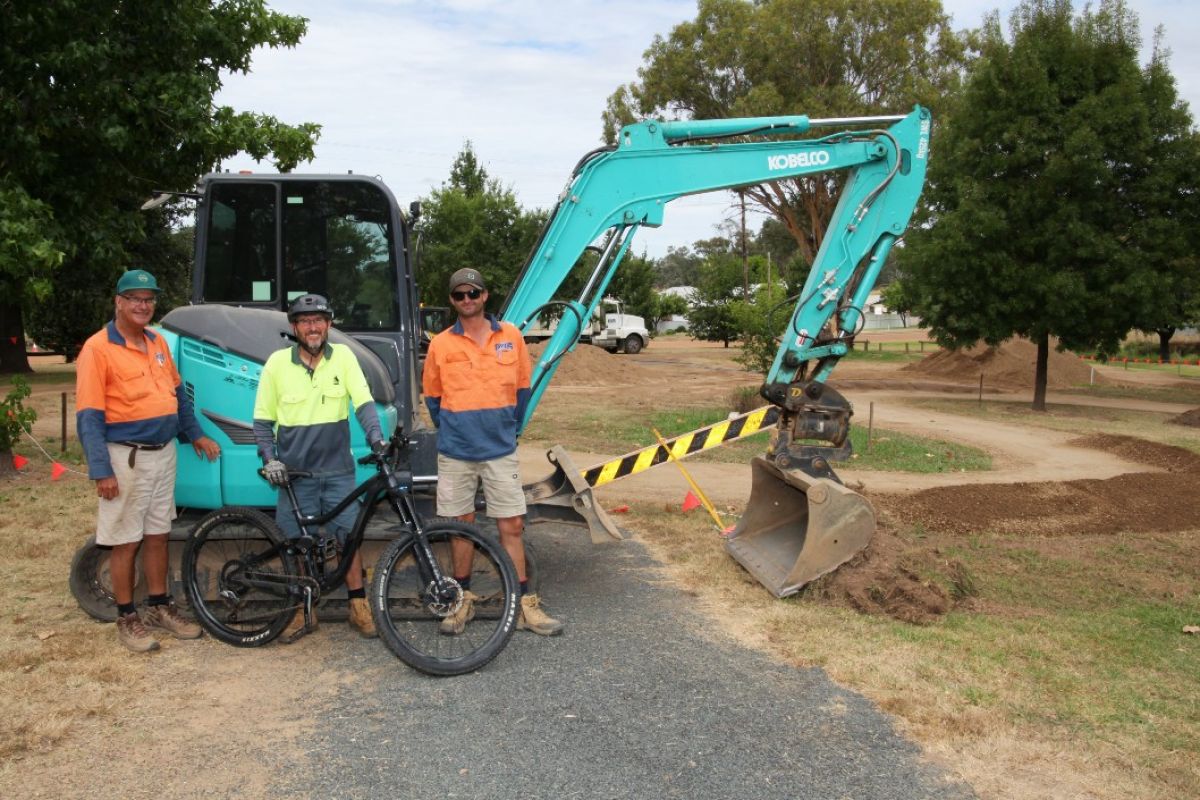 ---
Community
New bike jump and pump track for Tarcutta
Published: 04 Mar 2022 2:21pm
Anticipation is high as Wagga Wagga City Council helps construct a bike jump and pump track in Tarcutta's Paddy Osborne Park.
The eagerly awaited track is the result of a collaboration between Council and the Tarcutta Progress Association, who were successful in applying to the NSW Government ClubGRANTS program to help fund the $127,000 track's creation.
Tarcutta Progress Association Treasurer Kathy Peel applied for the grant funding after residents overwhelmingly responded in favour of a bike track when asked what they would like to see in the town. Attracting visitors to Tarcutta was also on Mrs Peel's agenda.
"As we are the halfway point for Sydney and Melbourne, we have a lot of families stopping in the park, allowing their children out for a run," Mrs Peel said.
"Having the track would add another level of incentives for families to pinpoint Tarcutta as a stopping point in their travels or even an incentive for those families or adults who like to try out pump tracks around the region.
"Having an amazing asset like this track; it's more than just a track, it's something else for local children to enjoy for generations to come, it's for passing families or even visiting families. It will help support our little community."
Parks & Recreation Assets Officer Rob Owers said the desire for a track in Tarcutta had been noted in Council's development of the Recreation, Open Space and Community Strategy 2040.
"The Tarcutta community let us know they wanted recreational spaces for their young people, so this track is a result of that feedback," Mr Owers said.
The design of the track was also a team effort, with Mr Owers and Tarcutta community members working together to achieve the final layout.
"We wanted to make sure a whole range of ages would be able to ride the track," Mr Owers said.
"The outside 140-metre track is a hot mix pump line with rollers, berms and table-top jumps that nearly anyone can ride, from a three-year-old to an adult, and is perfect for skateboarders, scooters, and all kinds of bikes. It has a bit of slope so it's easy to get some speed up.
"Down the middle we're going to have two dirt jump lines, one easier and one harder, with a series of table-top jumps up to 1200 mm high. Both have a berm that will turn them into a slip lane, so riders can safely slipstream back onto the outside track. We've also got cool little berms that help you generate pace to get up the hill, which makes the uphill section fun.
"We think it's a great track and we can't wait to see everyone give it a go."
Mrs Peel said the creation of the bike track means a lot to the Tarcutta community.
"This amazing track has given the community hope and so much excitement," Mrs Peel said.
"People have emailed, phoned, talked to me in person and said how it's amazing and exactly what the town needs. Even grown adults, 20- and 30-year-olds, have made the comment to 'mum' saying 'if this happens, I'm coming home to try it'. It's given the town that much delight.
"I've had so much encouragement from the townspeople. It's been a big effort, but I'd do it all again in a heartbeat for the Tarcutta Village."
Council is expecting the track to be completed by the end of March 2022, weather permitting.
The $127,000 Tarcutta Bike Jump and Pump Track is being funded by the NSW Government ClubGRANTS Category 3 Infrastructure Grants program ($87,000) and Wagga Wagga City Council ($40,000).
📷 Council Parks & Recreation Assets Officer Rob Owers (centre) has been working with contractors Mark and Paddy Sydenham to construct the new Tarcutta Bike Jump and Pump Track.