---
Arts & Culture
New floating installation launches on the Wollundry Lagoon
Published: 01 Sep 2023 9:31am
The peaceful waters of the Wollundry Lagoon will be the home to a vibrant floating island in the new exhibition Turtle Island, to be officially launched by the Wagga Wagga Art Gallery on Saturday (2 September 2023).
Created by environmental artist Hayden Fowler, the exhibition will be a focal point for conversations on how community can restore and protect local biodiversity.
The island will be covered in a variety of Indigenous plants with the hope that it will attract turtles and birds to nest in safety away from predators.
"Over time the lagoon has kind of degraded from what it would have been. Thinking about the turtles and birds and how few nesting sites or safe places there is around the lagoon, that's sort of formed a lot of the design of the island," Mr Fowler said.
"All through the whole Riverina Murrumbidgee area, most of the turtles are very old because foxes have been raiding their nests for decades, and no one would have been really aware of what has been going on.
"The construction is of the pontoon underneath. It's made up of recycled food barrels with an aluminium construction on top of that. The shell is a lightweight cement composite that I figured out for weight and buoyancy."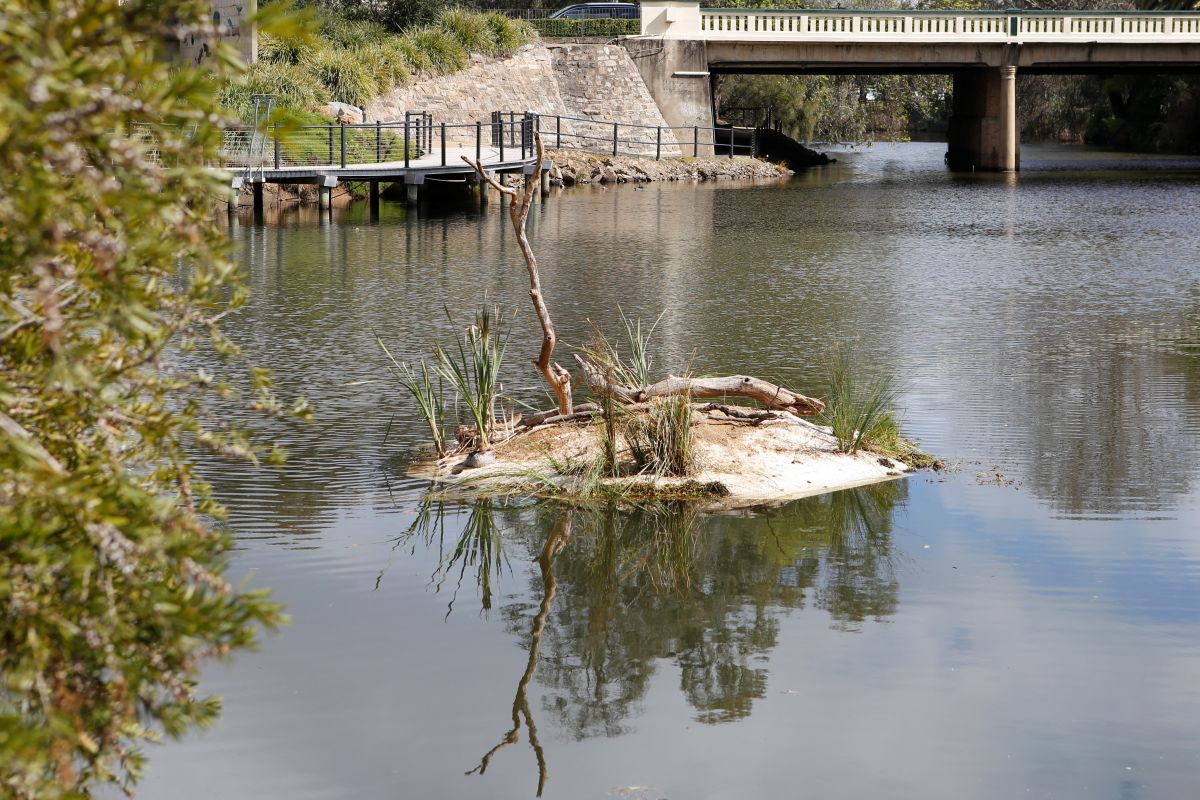 Turtle Island will be on exhibition from 2 September 2023 to 31 January 2024, and visitors will have the opportunity to observe the plants and animals establish on Turtle Island as the weather warms.
The activity on the 'Island' will be video documented weekly to capture the animals that visit the island, hopefully a collection of turtles, birds, and more, with the footage available for public viewing on the Wagga Wagga Art Gallery website.
Hayden Fowler predominantly works between Sydney, New Zealand, and Berlin.
Motivated by the planetary human-nature crisis, Fowler's practice explores the effects of alienation from the natural world to the human psyche.
Similarly, his work studies the results of dialogue in Western societies and how it forms human and ecological catastrophe.
Wagga Wagga Art Gallery Cultural Officer Narelle Vogel is proud to be the Project Manager for Turtle Island, which is a part of GREEN 2023, a year of environmental exhibitions and programs for the gallery.
"Turtle Island is one of many projects at the gallery to engage our audience in a conversation about the environment, climate change, but also just getting people to open their eyes, and think a bit deeper," Ms Vogel said.
Turtle Island will launch at the Wagga Wagga Art Gallery on Saturday 2 September at 4pm in conjunction with the Spring Exhibition Program – a series of five exhibitions examining issues of sustainability and the environment.
A performance by Letitia Harris and dancers from Wollundry Dreaming will welcome Turtle Island to the Wollundry Lagoon as part of the launch event.
Turtle Island was made possible by the Australian Government's Regional Arts Fund, which supports the arts in regional and remote Australia.
To stay updated on Turtle Island and view more of the exhibitions and programs on offer this year, visit the gallery's website at waggaartgallery.com