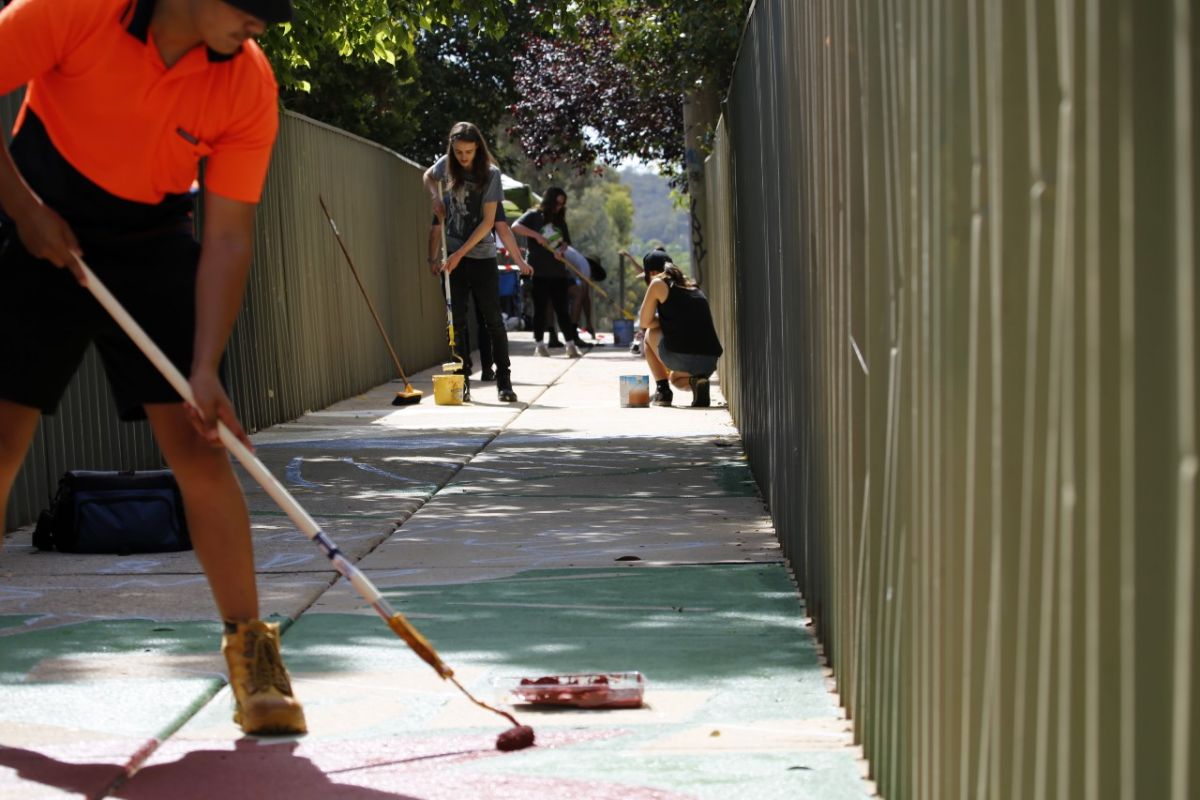 ---
Arts & Culture
Mount Austin laneways transformed with public art
Published: 17 Nov 2023 11:33am
Laneways in the Mount Austin area have been given vibrant and creative treatments on the footpaths and bollards.
Wagga Wagga City Council engaged artist Damien Mitchell to deliver a creative workshop program in partnership with students from Mount Austin High School.
The students worked with Damien to explore themes of diversity, connection, respect and the environment, which contributed to the designs installed in the laneways.
The Mount Austin laneways included in the project are Dove Street to Hunter Street, Short Street to Bungowin Place, Scherger Place to Northcott Parade, and Mimosa Drive to Phillip Avenue.
Council's Cultural Officer Lauren Reynolds stated that the finished project will improve the aesthetics and street appeal of the laneways.
"It also provides students from Mount Austin High School, who live and learn in this neighbourhood, the opportunity to participate in a new creative experience and develop skills in collaboration and delivering a community-based project," Ms Reynolds said.
Artist Damien Mitchell, who grew up in Wagga Wagga, has delivered murals and public artworks in cities such as Melbourne, Prague and New York.
He recently installed the mural on the water tower at Uranquinty, which depicts World War II themes.
"Earlier this month I ran three half-day workshops with the students from Mount Austin High School to support them in creating their own designs for the project," Mr Mitchell said.
"The whole process has been a collaborative effort with the students to allow them to develop skills in creative and community-based works, as well as identifying pathways in which visual art and design can bring life to any space.
"The past week the students and I have been out every day working on a different space. I'm from Wagga Wagga originally, so it's been great to be back, not only to work, but to help students share their own designs with the community."
Mount Austin High School Visual Arts teacher Kath McGeechan is grateful for the opportunity for students to work on this project.
"It has been such a rewarding experience for the students to get out and actively transform their neighbourhood," Ms McGeechan said.
"Mount Austin High School and its students have really appreciated this opportunity to work alongside Council and Damien to deliver this creative project for our community."
The Mount Austin laneways project is funded by Wagga Wagga City Council and is part of the Public Art Plan 2022-2026.