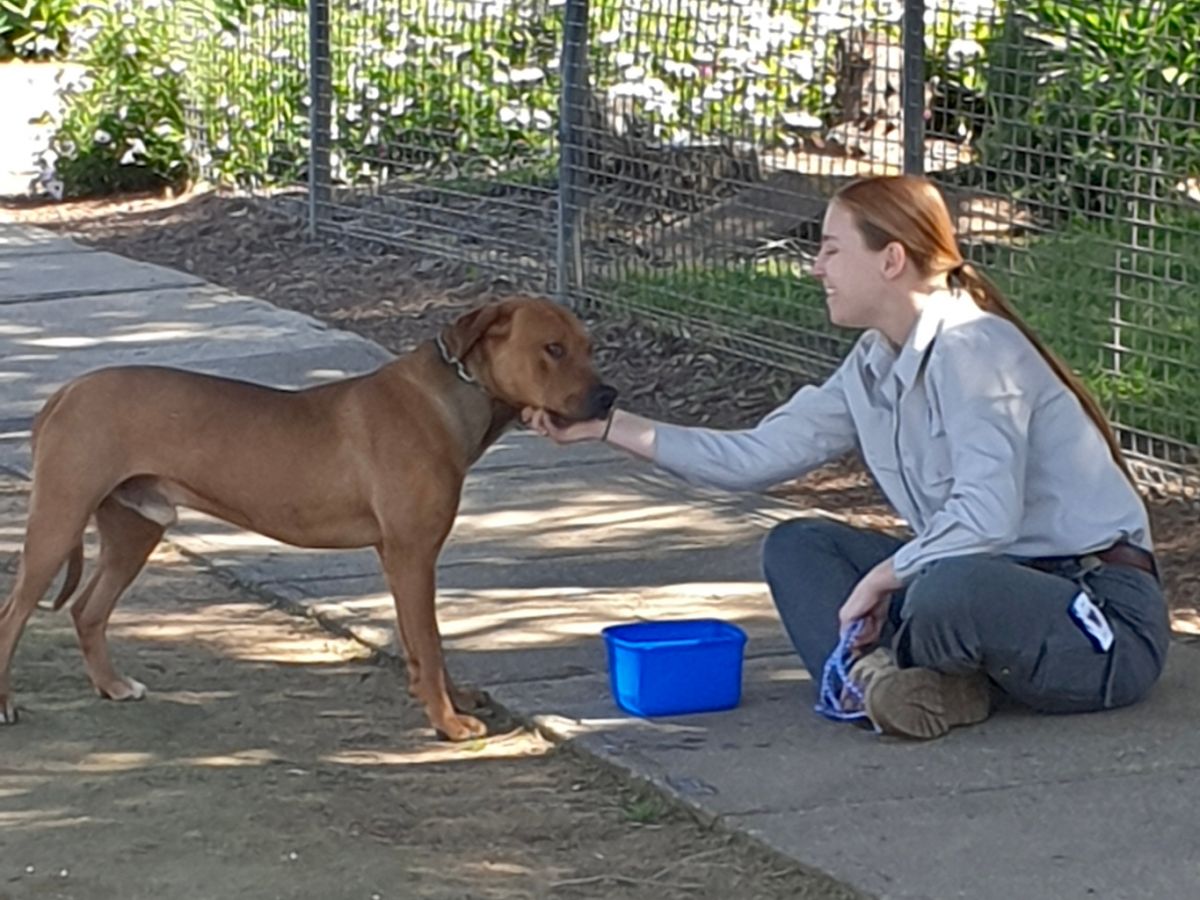 ---
Community
Ranger Courtney to Red's rescue
Published: 09 Oct 2020 10:47am
A Wagga Wagga City Council Ranger showed her love of animals while rescuing a dog at risk of being hit on a busy road earlier this week.
Ranger Courtney Krause received a call about a large dog wandering on a suburban field near a group of children.
"When I arrived, the dog had moved onto the gutter of a nearby road and was running out when cars drove past," Ms Krause said.
"Thankfully everyone slowed down so he didn't get hit.
"I could tell he was scared and anxious. Unfortunately, I'd run out of dog treats, but by chance Adam, one of our other rangers, drove past and saw us. He stopped and gave me his. We tried to lure the dog over with them – he was curious, but too scared to come near."
After several failed attempts to attract the dog, Ms Krause decided on a different tactic. She settled down on the footpath and started talking to the frightened animal.
"He'd come up, but if I moved even slightly, he'd back away again," Ms Krause said.
"It was a warm day and we could see he was getting thirsty, so we managed to get a tub of water from a neighbour. I put the water on the ground in front of me and kept chatting.
"It took me half an hour to build his trust up. When he finally came up for a drink, I just gave him a little pat on the muzzle. I could tell he was friendly and wasn't going to bite, but I had to be careful not to scare him. I knew if he ran I'd never catch him, so I focused on building trust."
Once Ms Krause had the dog on a lead, she continued to pat him, giving him water and treats, and slowly walked him to her truck to keep their bond intact.
"I wanted to make sure he was relaxed and calm when he arrived at the shelter."
Glenfield Road Animal Shelter Animal Welfare Supervisor Keli Stephens was pleased to report the dog, now known as 'Red', is happy and has been cleared for adoption.
"He's not as timid as he was when he first arrived," Ms Stephens said.
"Sadly, Red had no ID tag or microchip, so we have no way of knowing who his original owners were.
"We've tested his temperament, and he behaves well with people and other dogs. Red's a big bouncy dog, so any prospective owner needs to give him lots of exercise as well as love – and keep him safe and secure in a yard."
To see Red (impound number 521) or the other animals available for adoption, visit the Glenfield Road Animal Shelter, open Monday – Saturday, 1.00pm–4.15pm. For more information visit graswagga.com.au
Prevent your dog becoming a stray
keep yard secure and gates locked.
If your dog can jump the fence, keep it tied up while you're out, ensuring it has access to shade and water.
If your dog is anxious while you're away, put it inside your laundry to avoid it digging or jumping out of your yard.
When walking your dog, always keep it on a lead, unless you're in a designated off-leash area.
Ensure your pet is microchipped, desexed, vaccinated, registered and is wearing an ID tag.
NSW legislation requires that all dogs in a public place must be under effective control.
You find details of your nearest dog off-leash area on the Pets & Animals page of Council's website.