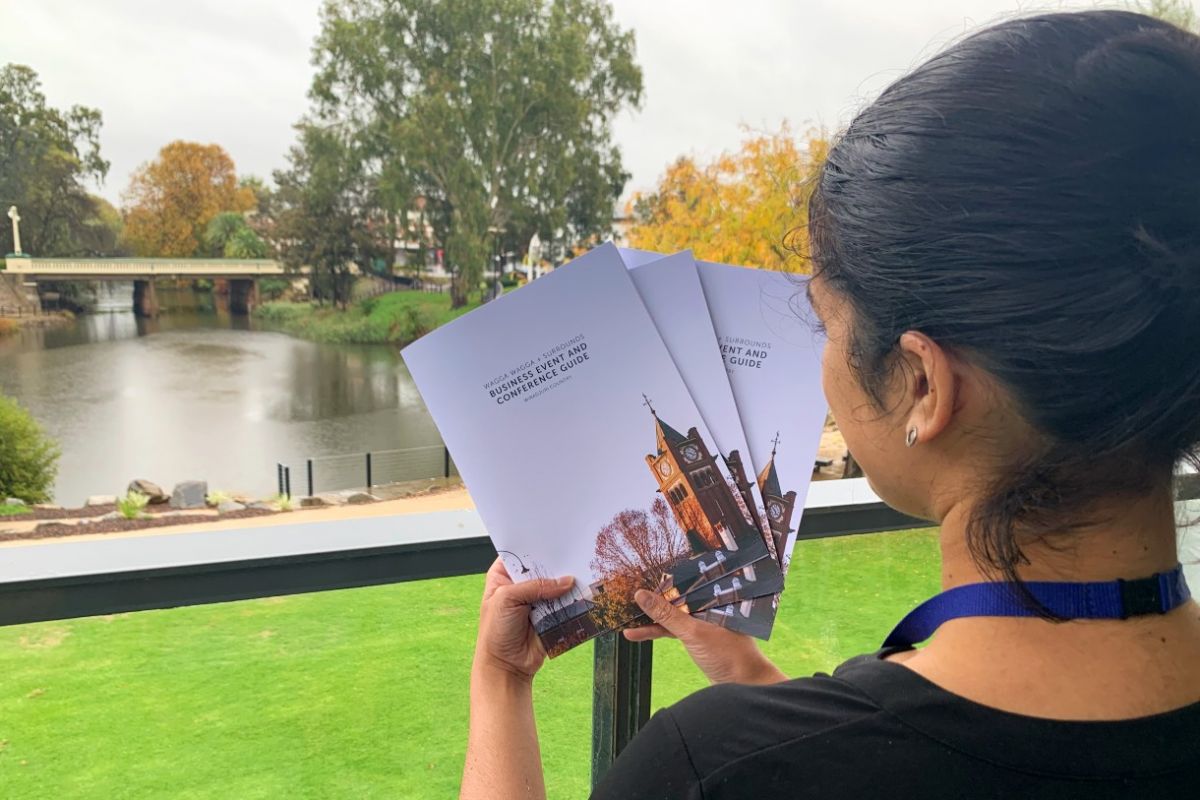 ---
Events & Tourism
Council attracts business events and conferences to Wagga Wagga
Published: 13 May 2022 12:21pm
Wagga Wagga City Council launched a new guide promoting our city and region as an ideal event and conference location this week.
The Wagga Wagga + Surrounds Business Event and Conference Guide, produced every two years, showcases the diversity and quality of venues and experiences on offer in our city for the corporate event and wedding markets.
---
Business Event and Conference Guide
---
Visitor Economy Development Officer Kimberly Parker said our city's location with easy airport, road and rail access along with our range of venues and depth of accommodation make it an ideal venue for organisers looking to stage a successful event.
"We're perfectly situated between Sydney and Melbourne, close to Canberra, and our city and wider region have so many experiences that organisers can take advantage of to make their event truly memorable," Ms Parker said.
The latest edition of the guide builds on the city's existing reputation as a leading regional events destination and includes a new itinerary section, detailing the wide variety of experiences on offer in our city and wider region.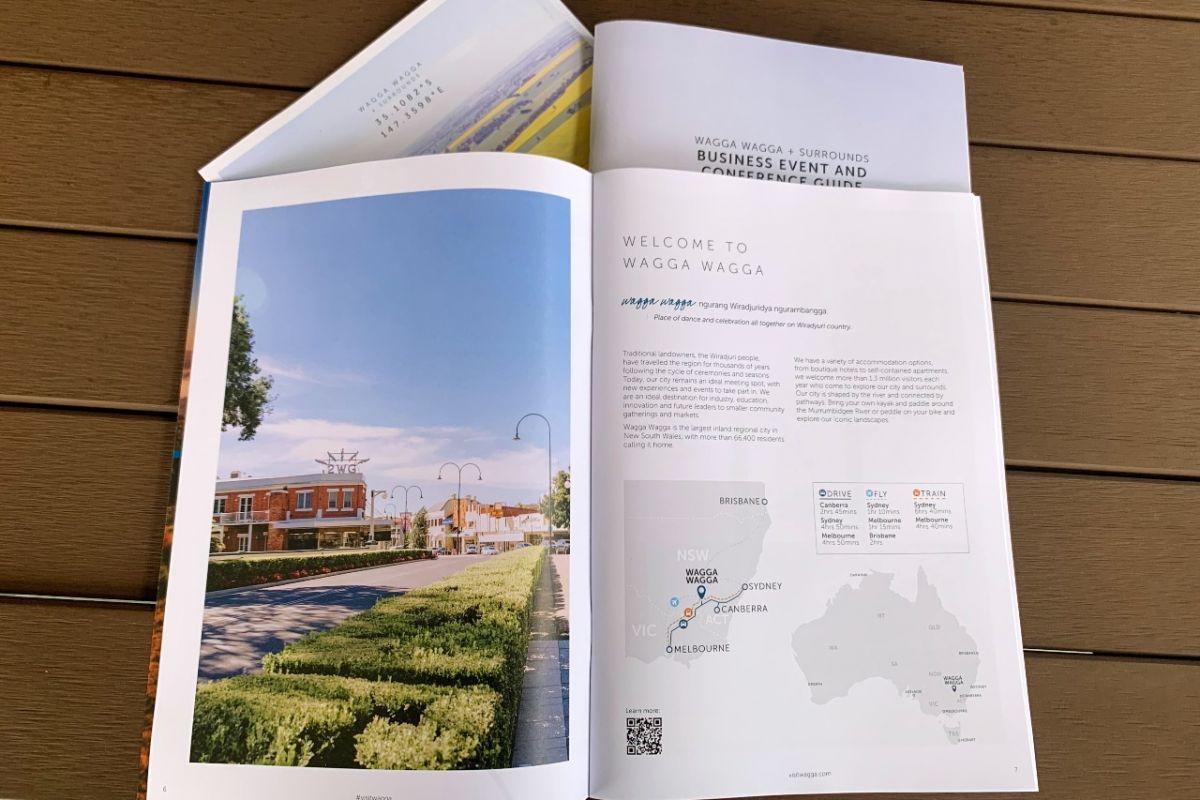 Business events and conferences provide an opportunity for delegates to step outside their regular workday and learn or participate in something new through team activities and social events.
"Every event needs a social program, so we've included suggested itineraries," Ms Parker said. "For example, you can take your group strawberry picking, visit a local winery, go on a behind the scenes agritourism tour, or take an immersive cultural experience
"We're showcasing our city, the diversity of venues, ease of access and what is on offer to ensure a memorable and authentic experience for delegates and to also encourage participants to come back on holiday with their family or friends. We use our guide to demonstrate everything on offer in Wagga Wagga and the surrounding region."
The new Business Event and Conference Guide was produced as part of Council's Tourism Partner Program and includes more than 64 venues suitable for staging small intimate events right through to large conferences, as well as over 100 local businesses and support services.
Council also promotes our venues and experiences through the visitwagga.com website which includes a recently updated suite of business event videos created through support from Tourism Australia and Destination Riverina Murray.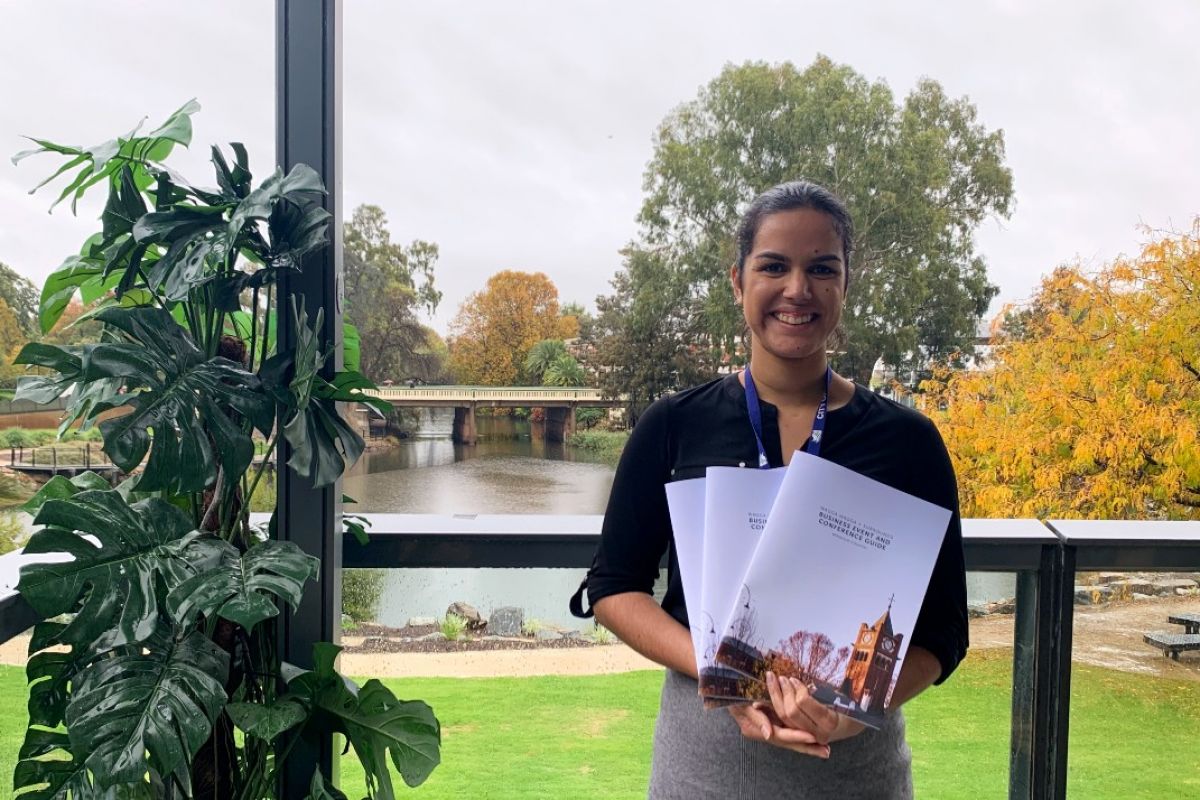 After a hiatus over the past two years, which saw many business events move online, Council's Visitor and Events team is seeing a sharp uptake in enquiries and bookings.
"We're receiving many enquiries, with organisers sometimes planning one or two years in advance," Ms Parker said.
"There's also a stronger demand for interstate and regional travelling, so it's great for the local industry to see light at the end of the tunnel.
"Every event or conference we host here boosts our local economy with conference visitors to regional NSW spending an average of $704 per trip, benefitting not only the venues and accommodation providers, but our local cafés and restaurants, florists and service providers; there's a flow-on effect."
The new Wagga Wagga + Surrounds Business Event and Conference Guide is available online at visitwagga.com/businessevents or in print form at the Visitor Information Centre, 183 Tarcutta Street, Wagga Wagga.
---
Wagga Wagga's top 10 largest venues (based on theatre-style seating)
Wagga Wagga Multi-Purpose Stadium, seats 2000
Bolton Park Sports Stadium, seats 1000
Charles Sturt University (Joyes Hall), seats 1000
The Range Function Centre, seats 1000
Wagga Wagga Showgrounds, seats 1000
Wagga Wagga Civic Theatre, seats 491
Wagga Wagga RSL Club, seats 400
Rules Club Wagga Wagga, seats 275
Food I Am, seats 250
International Hotel, seats 250